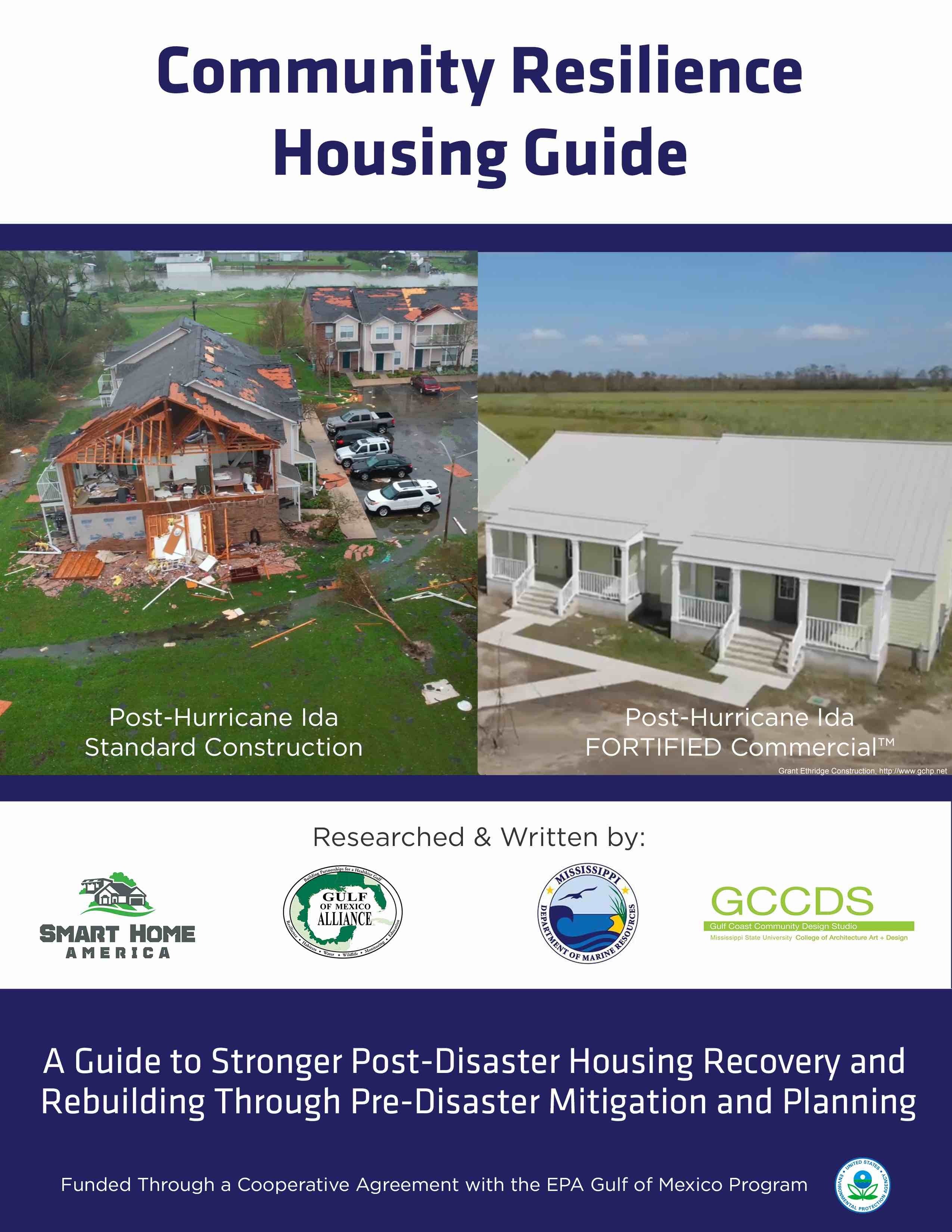 Project Summary
Smart Home America (SHA) has been awarded a US EPA Gulf of Mexico Program Cooperative Agreement, MX-00D86619, to develop the "Community Resilience Housing Guide: Creating a Stronger Post-Disaster Housing Framework for the Gulf Coast."


This project aims to create community-wide ownership of a new post-disaster housing recovery plan. It will enable local communities to incorporate and implement best practices in pre-disaster mitigation, policy, and planning by identifying missing knowledge or tools needed for local communities to implement their disaster recovery efficiently and shorten the consistent lag time of federal aid.
Pilot Projects
These pilot projects will increase the resilience of three communities by enhancing their capacity to plan for and expedite the recovery of their local housing stock post-disaster. Smart Home America closed its Pilot Project RFP in April 2022. The Pilot Projects are scheduled to be completed by November 2023.
The Request for Proposals sought cities or jurisdictions to pilot recommendations from the newly created Community Resilience Housing Guide by piloting and providing recommendations to the newly created Guide. In the process, successful applicants will develop a Resilient Housing Plan for their city.
Pilot projects will assist the project team in refining recommendations in the development of a Community Resilience Housing Guide. The goal is for each pilot community to adopt a Community Resilience Housing Plan or Post-Disaster Recovery Plan.
RFP is Now Closed
Smart Home America is seeking letters of intent for communities that want to increase their capacity to plan for the successful recovery of their housing stock post-disaster.
LOI (Letter of Intent) is due by April 29, 2022 (Extended from the original due date of April 8, 2022)

Eligibility: Eligible organizations can be any state and local government units or federally recognized Native American Tribe with a population under 200,000.

Download the Request for Proposals for more information.
Use the LOI and Full Proposal Template to submit applications.

The first page of the Template is the LOI.
Contact Graham Green at Smart Home America if you have any questions - graham@smarthomeamerica.org, 251-206-5632.
Gulf Housing Committee
The Gulf Housing Committee (GHC) is an advisory committee facilitated by Smart Home America and the Gulf of Mexico Alliance (GOMA) to provide input and direction to the Community Resilience Housing Guide project. The project is funded by a U.S. Environmental Protection Agency Gulf of Mexico Program cooperative agreement.
This committee will leverage the public and private sectors' expertise to increase the Gulf of Mexico region's resilience and bolster its ability to recover post-disaster. GHC members' role is to inform the Housing Guide's creation and provide recommendations based on gathered baseline data.
Additionally, some members of the GHC may be asked to serve on a selection committee during a competitive RFP process to identify up to four communities to pilot the Housing Guide. From this selection process, $60,000 will be allocated as sub-awards between the winning communities. The winners will put into practice the Housing Guide premise and recommendations at the local level.


Gulf Housing Committee Members
Miriam Boone - Community Development Director, Planner/Building Official, The City of Foley, Alabama
Brenda M. Breaux - Executive Director, the New Orleans Redevelopment Authority (NORA)
Chad Carson - Senior Grants Manager, Civix
Alex Cary - Market Development Manager, The Insurance Institute for Business & Home Safety (IBHS)
Lisa Churchill, PG - Founder, Climate Advisory
Chandra Franklin Womack, P.E., - Owner and President, Aran & Franklin Engineering
Hank Hodde, CFM - Sustainability and Resiliency Coordinator, Pinellas County, FL
Anna Keene Miller - Keen Living, Owner
Catherine Lee - Green & Healthy Homes Initiative, GHHI Jackson Outcome Broker
Kimberly Miller - HALFF, Principal Planner for Resilience
Dr. Lawrence "Lars" Powell - Director, Alabama Center for Insurance Information and Research
Tracie Sempier, Ph.D. - Mississippi-Alabama Sea Grant, Coastal Storms Outreach Coordinator
Brenda Takahashi - The City of Houston, Housing and Community Development Department, CHDO Administration
Annie Vest - Meshek & Associates, LLC, Planning & Grant Management Department Manager
Project Team
Julie Shiyou-Woodard - Smart Home America, President and CEO
Michela Schildts - Smart Home America, Vice President of Operations
David Perkes - Gulf Coast Community Community Design Studio, Director
Rhonda Price - Mississippi Department of Marine Resources (MDMR), Deputy Director of Coastal Restoration and Community Resilience
Kelsey Johnson - Gulf Coast Community Community Design Studio, Assistant Director and Planner
Graham Green - Smart Home America, Communications Director