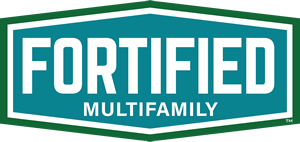 The Insurance Institute for Business & Home Safety (IBHS) developed FORTIFIED Multifamily™ as a construction standard and designation to reduce damage to apartments and other complexes and help the workforce stay on their feet. FORTIFIED Multifamily™ includes three levels
of resiliency.
FORTIFIED Multifamily™ Roof

FORTIFIED Roof keeps the roof on and the rain out.

By changing the nailing pattern and sealing the roof deck, water intrusion has been proven to be reduced by 95%. In addition, using an impact-rated shingle will also protect the roof against hail.
FORTIFIED Multifamily™ Silver
FORTIFIED Silver includes the protection of FORTIFIED Roof and adds additional protection to vulnerable and often overlooked components, including parapets, doors, and windows.


The Multifamily standard requires that any electrical and mechanical equipment be protected from flood/water damage. The walls have to be impact-rated, and the doors have the option to be impact-rated or protected. The windows will also have to be impact-rated or protected in hurricane areas.
FORTIFIED Multifamily™ Gold
FORTIFIED Gold includes the Roof and Silver qualifications, but it also requires that your business's entire structure is tied together, forming a continuous load path.

The load path must be engineered and verified to ensure Gold level protection. In addition, canopies must be properly anchored or supported.