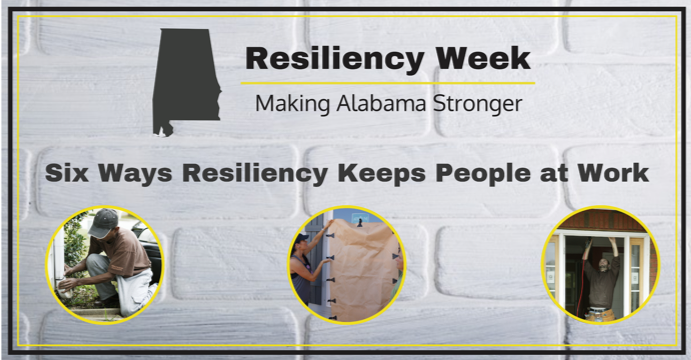 Published 9/2/2019

Labor Day Weekend is a chance to relax and spend time with family. How resilient your community, business, or home is probably hasn't crossed your mind. But maybe it should.
September 1st - 7th is Resiliency Week in Alabama. Resilience is the ability to resist sudden traumatic events, bounce forward from damage, and quickly recover. There are many reasons to be resilient in Alabama. Peak hurricane season is early September, and the threat of damaging floods, tornadoes and severe storms start in the spring and can last months. Alabamians need to be prepared all year.
This Labor Day, here are six reasons resiliency keeps us working.
1. Stronger Homes - Alabama leads the nation in FORTIFIED Home™ construction. This construction standard is proven to reduce damage from hurricanes and severe weather. It can also lower insurance costs and provide tax breaks for Alabama homeowners.

FORTIFIED homes are built beyond code and exceed many local building codes. Many coastal Alabama cities have adopted beyond-code provisions based on FORTIFIED construction, making entire communities stronger. A FORTIFIED home is more likely to survive a natural disaster. A dry interior means families can move back in and get back to school and work quicker.


2. Businesses Stay Open - Over 40% of businesses affected by a natural disaster never reopen. Business continuity and disaster planning can be the difference between survival and layoffs.

Alabama is also home to the first FORTIFIED Commercial™ buildings in the world. Strength, flood resistance, and business continuity can be built right in. Building owners also save on insurance premiums for making their businesses resilient.


3. People are Prepared - An emergency plan is the first step towards resilience. Local and State Emergency Management Agencies (EMA) have worked tirelessly to help Alabamians Be Ready for the next emergency. Thanks to the work of EMA professionals, Alabama residents understand the need for an emergency kit and plan. EMA, first responders, and residents must be ready for any disaster that could affect their homes or community.


4. Economies Thrive - When homes and businesses are better able to withstand a natural disaster, everyone wins. People can get back to work quicker, they don't miss paychecks, and employers see less downtime. If homes and businesses are not damaged, destroyed, or closed, then cities lose less tax revenue and have less debris to clean up, saving money.


5. Flood and wind Insurance is more affordable and accessible - Insurance is economic stability in the event of a disaster. It can allow home and business owners to recover and fill gaps after a devastating storm. Plus, resilient buildings are more affordable to insure since there is less risk they will be severely damaged.

Nearly 25% of flood insurance claims come from outside high-risk flood zones, but only 15% of homeowners had flood insurance in 2018. Flood coverage is NOT part of homeowner's insurance. The average cost of a flood insurance claim in 2017 was $91,735, while the average premium was $707. It can be as low as $427 a year in low-risk areas. The average FEMA Personal Assistance payout was $33,000. Not many homeowners would be able to rebuild and recover with $33,000 making a $707 premium a bargain. Elevating or using other flood mitigation techniques can further reduce flood insurance costs.

Wind insurance rates along the coast and in areas at risk of tornadoes can be a burden for homeowners. FORTIFIED reduces wind insurance rates statewide for homeowners. Simply re-roofing to FORTIFIED standards can save money on premiums.


6. Resilience Pays - Recently, FEMA and other agencies that assist with disaster rebuilding, have started prioritizing funding for communities that focus on resilience.

Why? Research by the National Institute of Building Sciences shows that investing in resilience saves up to $11 for every $1 spent. Resilience and mitigation projects can create new jobs and save billions in recovery costs for areas willing to implement new community planning and construction practices.