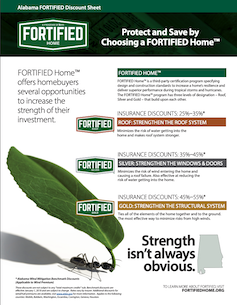 Download the Alabama FORTIFIED Insurance Discounts Sheet.
Homeowners in Alabama can save between 20 and 55% on their homeowners insurance wind premium by building FORTIFIED. The State leads the nation in FORTIFIED construction thanks in part to these regulated and legislated discounts, as well as to improved building codes (in some areas) and pieces of legislation passed since 2009.
Beginning in 2018, all home and business owners who build FORTIFIED in the State of Alabama will qualify for discounts on their insurance. Talk with your insurance agent and learn more about the FORTIFIED Home High Wind and Hail standards for inland communities.