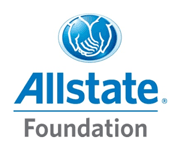 (Mobile, Ala.) The Allstate Foundation and Smart Home America are pleased to announce their continued partnership into 2018. The renewed funding expands the pilot project which launched on a Habitat for Humanity construction site in Mobile, Alabama on July 18, 2017, in three other states; Georgia, North Carolina, and South Carolina.
Developed by Smart Home America and funded by The Allstate Foundation, the first of its kind program teaches people about the FORTIFIED Home construction method through volunteering with Habitat for Humanity. During the pilot project, Mobile and Baldwin County Allstate Insurance Agents and partners got their hands dirty to gain a deeper understanding of how a home can be strengthened against hurricanes and severe weather.
After attending an in-class training about FORTIFIED, the agents were given an interactive tour of a FORTIFIED home under construction to understand better how the method is put into practice. Then, they were put to work themselves installing hurricane straps, caulking seams for energy efficiency and installing interior plywood at the Habitat for Humanity of Southwest Alabama home in west Mobile. The event provides several benefits; a hands-on education, a team building activity, and an opportunity to give back to the community.
"We were able to see and do what we've been reading and hearing about," said Kenneth Morgan, Allstate Agent in Saraland, Alabama. "Being able to share the experience of helping a family build their home was great! Now, I'll be able to help my clients and their families better understand FORTIFIED and how it can help them save money and stay safe."
Smart Home America will work with Habitat for Humanity affiliates and Allstate agents in target states to arrange similar events. Additionally, other insurance companies and other industries, such as real estate, have expressed interest and are encouraged to learn more.
"We started out in Coastal Alabama fundraising in partnership with Habitat to prove that FORTIFIED construction could be done affordably, that it worked and why it worked," stated Julie Shiyou-Woodard, President and CEO of Smart Home America. "Now FORTIFIED is the new standard, and we can focus on real-time, hands-on learning, while giving participants a team building, giving back, connecting with your community experience. This one of a kind training is good for all involved. Thank you to everyone for believing this would work, especially The Allstate Foundation."
About Smart Home America
A 501(c)(3) not for profit organization based in Mobile, Alabama, Smart Home America promotes stronger building methods, improved building codes, and policies that create resilient communities. The group works in eight states and is a subject matter expert in resilience policy. Its staff and members speak at national level events and advise municipalities, leading organizations and Fortune and Global 500 companies. Their unique public, private sector approach has led to the adoption of improved building codes and stronger building methods, creating the first viable market for the FORTIFIED Home™ construction method. This replicable model for national growth is centered on a suite of policies and their "Code Supplement," which allows for the adoption and growth of code-plus construction. Currently, a focus of the organization is supporting recovery efforts in Texas and Florida. SmartHomeAmerica.org
About The Allstate Foundation
Established in 1952, The Allstate Foundation is an independent, charitable organization made possible by subsidiaries of The Allstate Corporation (NYSE: ALL). Through partnerships with nonprofit organizations across the country, The Allstate Foundation brings the relationships, reputation, and resources of Allstate to support innovative and lasting solutions that enhance people's well-being and prosperity. With a focus on building financial independence for domestic violence survivors, empowering youth and celebrating the charitable community involvement of Allstate agency owners and employees, The Allstate Foundation works to bring out the good in people's lives. For more information, visit www.AllstateFoundation.org.