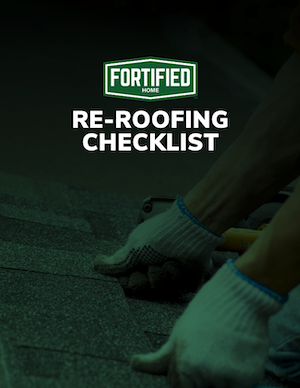 If you need to repair your roof or re-roof, download the FORTIFIED Re-Roofing Checklist.
The Checklist will guide your roofer through the steps needed to meet the FORTIFIED Roof requirements. It includes excellent resources, videos, and links to additional information.
Remember, you must work with a FORTIFIED Evaluator to earn a designation certificate. They are the only professional who can certify that your home meets the FORTIFIED standard.
The FORTIFIED Re-Roofing Checklist can also be used when seeking bids for your next. Hand it to every roofer who prices out your project to make sure all the work needed is included in your contract.
Use our Service Directory to find trained and certified FORTIFIED Evaluators, roofers and professional contractors and builders in your area