These resources are provided for free as a public resource by Smart Home America, Inc.
There are two versions of the Code Supplement. One for coastal communities and one for inland communities. Both are supplemental codes to the International Residential Code (IRC) and may be adopted by jurisdictions and municipalities.


---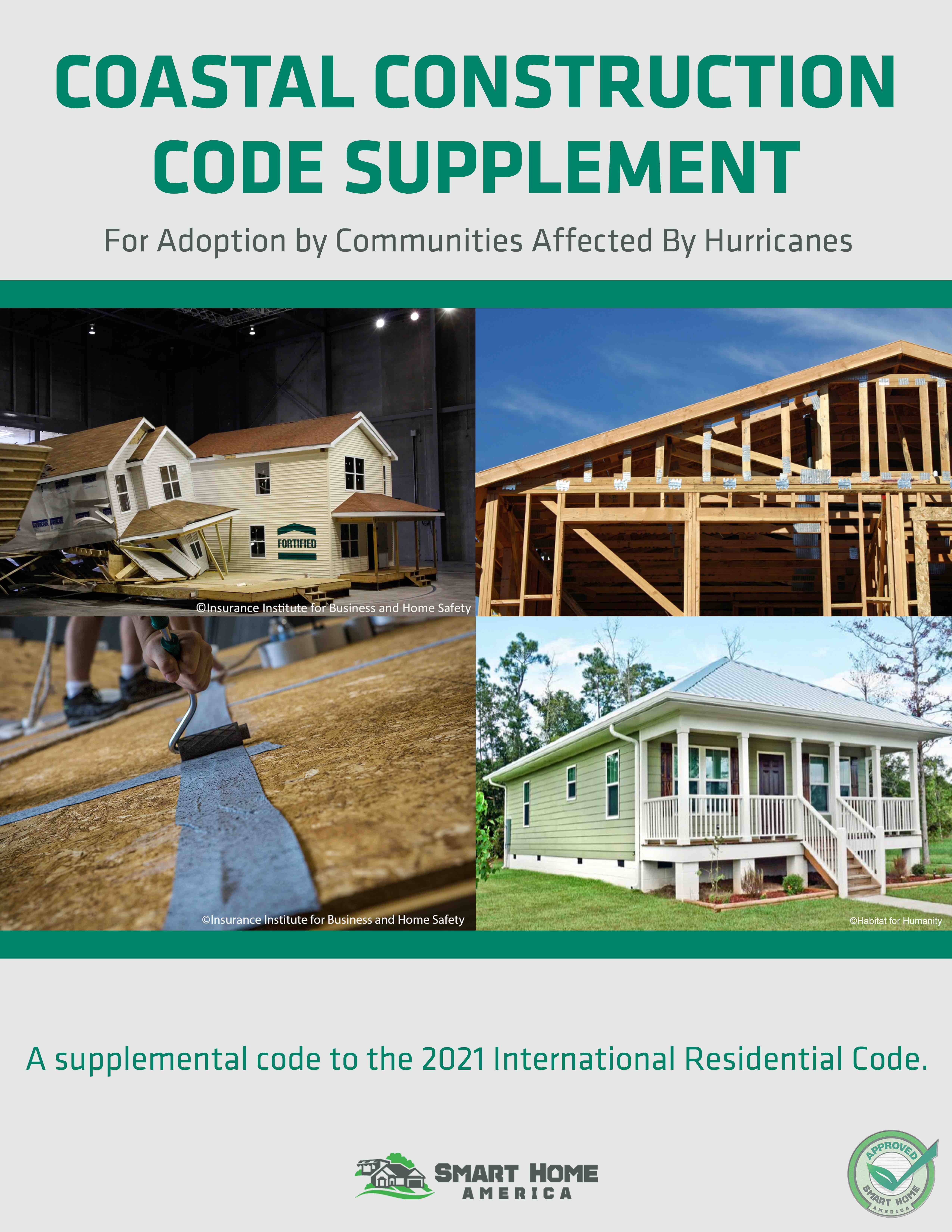 ---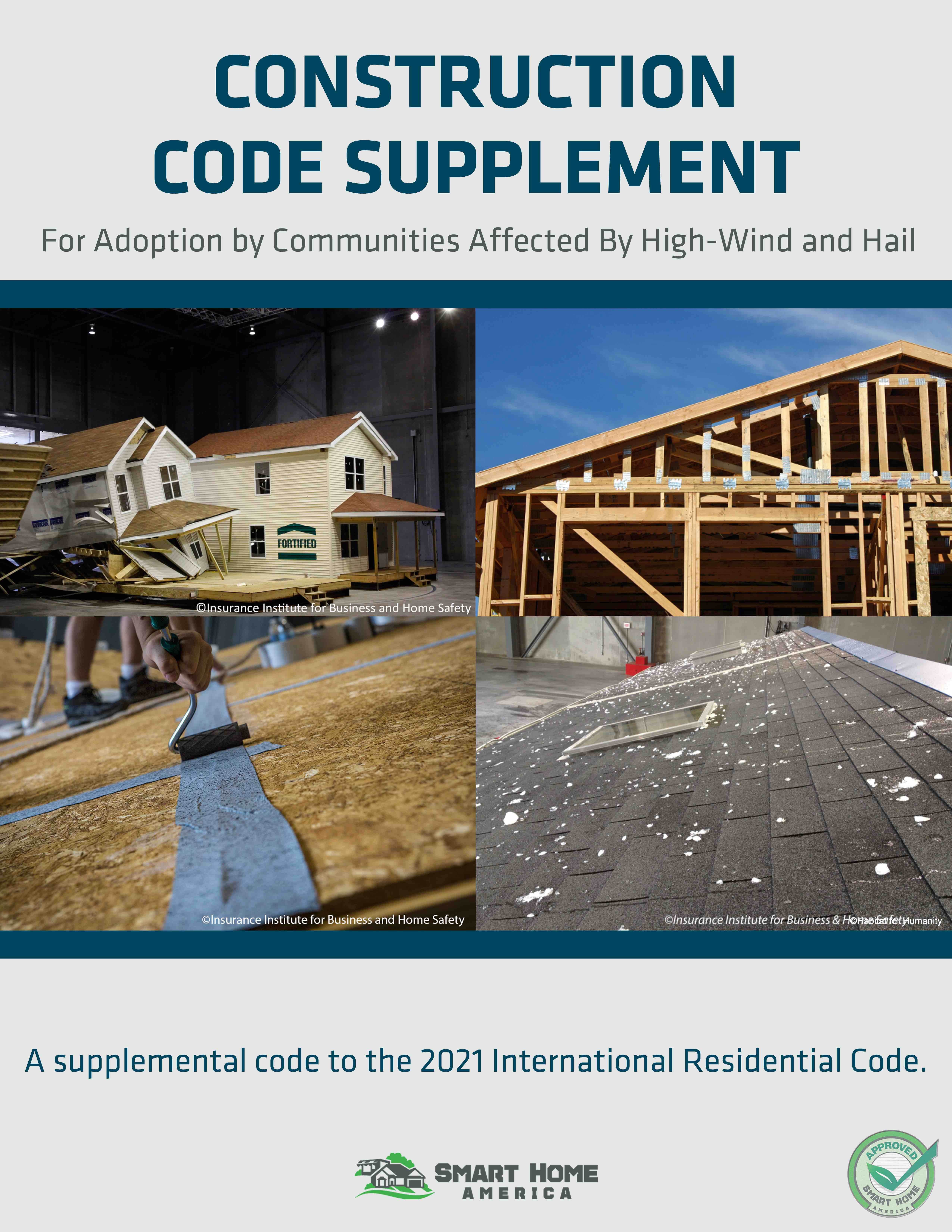 ---
---
Background
The idea for the Construction Code Supplement came from community leaders and Building Code Officials in Coastal Alabama, in partnership with Smart Home America, after being impacted by both Hurricanes Ivan and Katrina in back to back years.
The purpose of the Code Supplement is to increase community resilience and reduce future damage from hurricanes, high winds, hail, severe storms, and wind-driven rain.
Adoption has many benefits, including the reduction of losses during severe weather events, significantly reduced damage, and lowered insurance costs. A recent study also shows that a FORTIFIED Home™ designation increases the resale value of a property. More homes built to a resilient standard can also reduce storm debris cleanup costs for municipalities.
Adoption of the Code Supplement closes the gap between existing "I Codes®" and the Insurance Institute for Business and Home Safety's (IBHS) FORTIFIED Home™ Technical Standards. The Code Supplement is meant to be adopted and enforced in addition to local building codes. IBHS provides technical input to keep the Code Supplement current. The Supplement is based on the latest research and testing conducted at the IBHS Research Center and in the field. To connect with communities enforcing this supplemental code, please contact Smart Home America at 1.855.742.7233 or info@smarthomeamerica.org.
Additionally, Smart Home America strongly advises the adoption of the 2015 IRC/IBC flood-resistant construction standards. Flooding is one of the most devastating and shared hazards facing communities today. By incorporating added steps to mitigate against wind and flood hazards, the durability and strength of homes can be increased while bolstering the safety of residents.
NOTE: By adopting this Supplemental Code, municipalities and jurisdictions recognize that individual homes built, re-roofed, or otherwise permitted under this code will be constructed to beyond-code standards but will not be designated as a FORTIFIED Home™. To be identified as a FORTIFIED Home and issued a Designation Certificate, a homeowner, or the builder, must voluntarily contract the services of a Certified FORTIFIED Evaluator™. They are the only professional able to inspect and collect relevant documentation confirming that a home meets all the requirements of the IBHS FORTIFIED Home™ program.
FEMA and FORTIFIED, P-804
Adopting the Code Supplement allows local building code to be consistent with FEMA's P-804, Wind Retrofit Guide for Residential Buildings. FEMA issued a Job Aid outlining the cost-effectiveness of using hurricane-resistant home improvements as outlined in P-804. This Job Aid establishes the use of pre-determined benefits to demonstrate the cost-effectiveness of wind retrofit projects that comply with FEMA P-804, Wind Retrofit Guide for Residential Buildings. Building to these standards eliminates Applicants/sub applicants' requirement to conduct a separate benefit-cost analysis for a hurricane wind retrofit project that meets the criteria identified.

For questions, please contact Smart Home America.
If jurisdictions or municipalities have any questions about modifying or adopting the Supplement, please contact us.