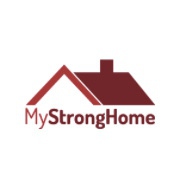 New York, May 30, 2017 – MyStrongHome, a first-of-its-kind benefit corporation that provides construction, financing and insurance services to homeowners in hurricane-prone areas of Alabama, Louisiana and South Carolina, announced it has closed $10M in financing and is now officially open for business. Financing was provided by impact investors including Prudential Insurance, the Greater New Orleans Foundation, the Calvert Foundation, the MacArthur Foundation, MetLife, Pi Investments and several individuals.
MyStrongHome helps homeowners manage the risk associated with increasingly frequent and severe weather, most notably hurricanes and other windstorm events. MyStrongHome delivers specialized construction upgrades, including installation of a new impact-resistant FORTIFIED roof. It finances the cost of that work with future insurance premium savings from a new, heavily discounted insurance policy through its insurance partners. Tax incentives and grant programs are also available in Alabama and South Carolina that further reduces the cost to homeowners.
The retrofits are performed by vetted local contractors, and can often be completed in a single day. The upgraded homes receive a FORTIFIED Home™ designation from the Insurance Institute for Business and Home Safety (IBHS).
"We are excited to offer the first one-stop shop for consumers that combines construction, lending and insurance services that make it easier and more affordable for homeowners to take that extra step to strengthen their home so they are ready for the next storm," said Margot Brandenburg, Founder of MyStrongHome. "Depending on the cost to retrofit the home and the amount of insurance savings, MyStrongHome may be able to provide its services at little to no upfront cost to the homeowner."
"The FORTIFIED Home standard is based on both decades of real world post-disaster investigations and meticulous full-scale laboratory testing. FORTIFIED construction or retrofitting makes homes stronger and less vulnerable to storm damage," notes Julie Rochman, IBHS President and CEO. "In fact, recent University of Alabama research found that a FORTIFIED designation also increases home resale value by 7 percent. We are proud to work with MyStrongHome, which is the first company whose specific mission is to help homeowners realize a return on their FORTIFIED investment."
MyStrongHome successfully piloted the retrofitting of 40 homes last year in Alabama, Louisiana and South Carolina. Pilot customer Charlie Graham of Conway, South Carolina said "I couldn't have been more satisfied with the job they did [on my home]. It was professional, high quality and done quickly. And, when Hurricane Matthew came in October, my house was untouched even though a lot of my neighbors had damage."
According to Louisiana Insurance Commissioner, Jim Donelon, "FORTIFIED upgrades are a great way to reduce the high cost of coastal homeowner's insurance by strengthening homes against storm damage, which allows homeowners to return to their homes and lives more quickly after a storm."
For media inquiries: